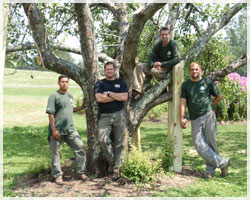 We have extensive knowledge of tree care and pruning. Our pruning services are in accordance with ANSI A300 Standards. We can help by completing selective pruning on your shrubs, trees and other plants. We specialize in thinning, crown reduction, crown elevation, crown restoration, crown cleaning (deadwooding), utility pruning, and vista pruning. Vista pruning can be done to maintain or allow a specific view that has been predetermined from a certain point. We discard all cuttings, clippings and pruned limbs. If you are in the High Country, contact us for a free estimate.
We also are happy to provide stump grinding services. We take proper care to grind stumps should you need this service. New trees can be replanted using the stump method as well should you want to replace the stump with something that will grow and continue to flourish.
ArborCare Tree Removal Service in NC provides all sorts of landscaping, yard maintenance and other services including a Snow Removal Service in NC, Preservation Tree Care and support, preconstruction consulting, fertilization, mulching, plant healthcare and diagnosis of problems, view enhancement, and we even have firewood for sale. Contact us and let us know how we can help you!