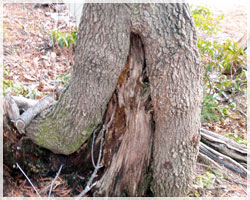 Anyone who has ever visited or lived in windy, snowy regions and places that receive a great deal of rainfall during certain periods understand exactly how important it is to have access to a company that you can trust with any tree emergencies that may arise. The Blue Ridge Mountains and High Country are known for their four distinct seasons and, from time to time, the weather during those seasons can be unpredictable. ArborCare Tree Service is there for you after the storm leaves and you find yourself with trees down throughout your yard, driveway and other important areas. We provide Emergency Tree Removal when you need it the most, Hazardous Tree Removal from areas that no one else wants to touch, and Storm Restoration after the storms have passed and you need help cleaning up the debris.
For emergencies, one of our experienced technicians is there for you in a hurry! For hazards, we can apply different applications for removing hazardous trees and employ our state-of-the-art equipment to come to your rescue. After storms, our experienced crews are known for quickly mobilizing to help utilities recover from destruction caused by storms. We work to clear downed trees as safely as possible without causing any further damage to structures, conductors or other utility infrastructure.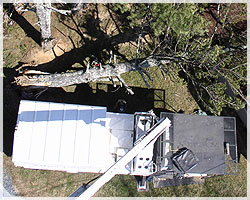 When your trees have experienced Storm Damage it is always best to contact an ISA Certified Arborist, like Chad J. Michael #SO-5422A, to evaluate your trees to see if they can be pruned back to health and give you a free estimate to prune them or unfortunately remove the damaged tree.
We work in and around Boone, Blowing Rock, Banner Elk, and the other places within a 60 mile radius of Boone and the High Country. We also provide a variety of other services including a Snow Removal Service in North Carolina, view enhancement, tree preservation and support, preconstruction consulting, selective pruning, fertilization, mulching, plant health care, and we even sell firewood. Contact us via email or by phone and let us know how we can help you.