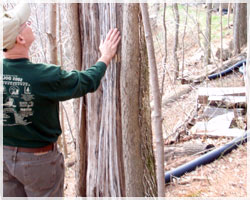 ArborCare Tree Services in Boone and the High Country area of Western North Carolina specializes in the diagnosis and the identification of plant disorders as well as tree problem assessment and risk management. Diagnosing plant problems requires a combination of knowledge, experience and keen observation. When we identify plants and diagnose problems we accurately identify the plant and look at the pattern of abnormality. We carefully examine the site, noting the color, size and thickness of the foliage. We check the trunks and branches of trees and plants and examine the roots and root collars. After all of this, we check for other signs and symptoms and will give you our recommendations.
Trees and plants are an important part of our landscapes and yards. They provide a host of benefits to our daily lives including much needed oxygen as well as shade and beauty. It is important to keep your trees healthy and ensure that common problems such as small bugs and other health risks do not effectively harm your favorite trees. ArborCare Tree Services, Inc. is very knowledgeable about a variety of tree problems and we can correctly identify a variety of ailments, which is the first step to saving the trees and plants that are affected. In addition to finding problems that are already in place, ArborCare Tree Services in NC is also happy to provide consultation services and give you proper advice on the health of your trees and plants today. We can identify any risks that could prove to be threats in the future. It is imperative that you check for risk reduction at the very least to eliminate any problems that may arise in the future.
Tree assessment is the evaluation of a tree's current health. Risk assessment includes checking for the potential of the tree to fail, noting the environmental elements that may contribute to failure. Evaluating trees for their potential to fail is risk management.
Contact us if you are in the High Country of North Carolina. We work within a 60 mile radius of Boone NC and would be happy to speak with you about our services and how we can help you. We provide a host of other services in addition to identifying and diagnosing plant and tree disorders and risk management; we also provide services such as Snow Removal Service in North Carolina, view enhancement, tree preservation and Tree Support, emergency and Hazardous Trees removal, storm restoration, preconstruction consulting, selective pruning, fertilization, plant healthcare, Stacking Firewood and mulching. Learn more by emailing us or calling us today.